Features:
Chest Press / Mid Row Station: The multi-grip press arm features 3 pair of handgrips to work muscle groups from various angles, creating more thorough muscular development. Adjust the cam at the top of the press arm to perform flawless, chest, shoulder and back exercises. Turn around and blast your lats with a chest supported mid row or reach up and grab the lat bar.
Lat Pulldown / High Pulley Station: Perform lat pull downs, triceps press downs, cable crossovers and many more high pulley exercises. Adjustable hold down pads stabilize your body for lifts beyond your body weight. Unique versatility allows you to increase the strength and endurance of your back muscles.
Ab Crunch / Mid Pulley Station: Develop awesome abs and terrific triceps quickly at this strength training station. Biomechanically engineered for smooth, comfortable, full range of motion crunching movement. Specifically designed for firming, flattening and isolating the entire abdominal area.
Perfect Pec Station: Equipped with swivel arms and designed for both unilateral and bilateral movements you get the maximum stretch for deep muscle toning, and the most incredible upper body development possible.
Leg Extension / Leg Curl Station: When you' re ready to build muscular legs and stronger knee joints, this leg developer is ready to help you meet your goals. Biomechanically accurate pivot point ensures ergonomically correct body positioning for natural and complete hamstring and leg biceps development.
Seated Row / Low Pulley Station: Essential for well-developed backs, seated row exercises build depth in the middle back and train the hard to reach lower lats. Low pulley swivels smoothly and fully to provide accurate resistance for cable curls, upright rows, shrugs, leg abduction, leg adduction and much more.
Specs:
2"x3", 11-Gauge Steel Construction
Powder Coated Finish
210 lb Selectorized Weight Stack, Upgradeable to 260 lb
2,200 lb Tension Strength Aircraft Grade Steel Cable
Includes: L

at bar, revolving straight bar, ankle strap, ab/triceps strap, Total Body Workout™ DVD, full size exercise chart and convenient water bottle and towel holder.

Steel Bearings Inside Nylon Pulleys
Assembled: 89"L x 76"W x 83"H
Options: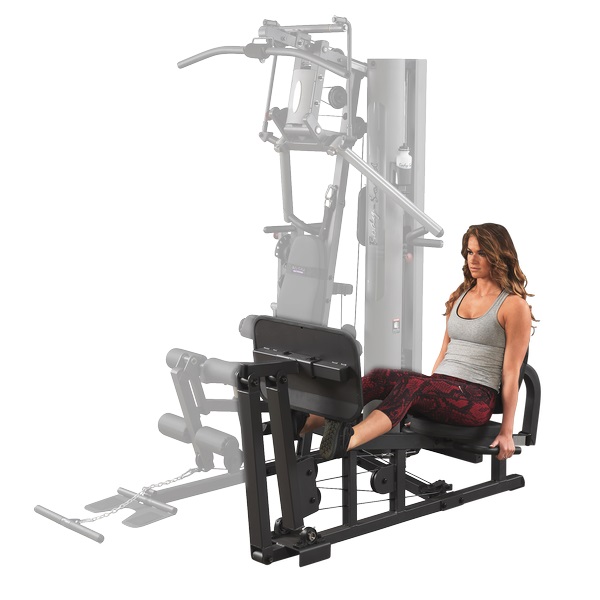 Leg Press Attachment (GLP)
2:1 ratio - 420 lbs of resistance, or 520 lbs with the weight stack upgrade. Double beam design eliminates ankle stress and provides consistent resistance throughout full range of motion. Pivoting press plate rotates both forward and downward to target thighs, hamstrings and glutes. Extra large, extra wide, non-slip rubber covered press plate will handle the big guys. It's built for safety, comfort and exercise variation. Side stability handles lock you in place. Commercial grade, precision engineered pillow block bearings for smooth movement and tighter tolerances.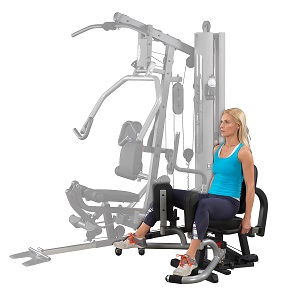 Inner and Outer Thigh Attachment (GIOT)
Trim and tone those trouble spots with the inner and outer thigh attachment. Do both abductor and adductor exercises from one seated position. 5 range-of-motion adjustments accommodate users of all sizes. A lumbar supported adjustable back pad, swiveling knee pads, and no cable change design provide the quality, comfort, and ease of use necessary to achieve great results.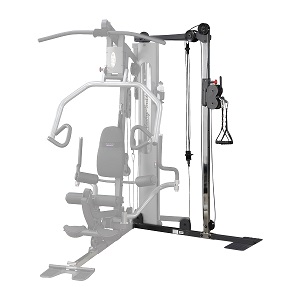 Cable Column Attachment (GCCA)
10 incremental adjustments and pivoting quad pulley design provide natural movements and allow users to fully customize their exercises. The dual handle design allows both unilateral and bilateral movements so you can concentrate on a single muscle or on a whole muscle group. A single pop pin adjustment keeps the transition between exercises smooth and simple.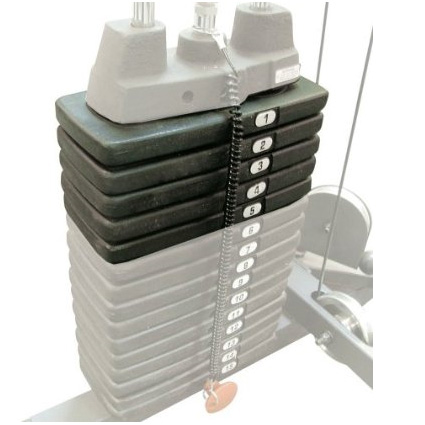 50 lb Weight Stack Upgrade
Bring the 210 lb stack to 260 lb.