Police and Sheriff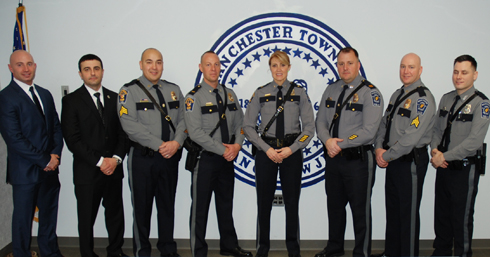 The good men and women of the Manchester Township Police Department

Adamant Barbell has been providing high quality fitness equipment for police stations and sheriff's departments since 2007, including:
CA
CO

Johnstown Police Dept
Mesa County Sheriff's Office

FL

Monroe County Sheriff's Office
Collier County Sheriff's Office

NC
NJ

Manchester Township Police Dept

OR
VA

Williamsburg Police Dept
Franklin County Sheriff's Office
Police officers and sheriff's deputies have fitness requirements that need to apply to real-life situations, which is very different from bodybuilders or powerlifters. To deal with real-life situations they need strength, but they also need to learn to utilize power and develop stamina, endurance, agility and speed. You can't get that with all-in-one weight machines. And more effective freeweight and functional training equipment actually is much easier on the budget.
---
Quotes and Purchase Orders
We can put together quick quotes for your approval. If you aren't sure what you need, we'll figure something out based on your needs.
Yes, we take purchase orders! Contact us for our W-9 form if you need it to set Adamant Barbell up as a vendor.

Or Call: (510) 868-0597